What to do on a day that has on and off rain? Well, you sign your children up for swim class of course. Not only sign them up but the first class is today. Even better you find out two hours before the class starts that your son's bathing suit is broken. So begins my frazzled evening of swimming and rain.
We signed P up for private swim lessons this year. Last year he was just overwhelmed in his large class because of his asperger's. Luckily I found out that our city offers private lessons for the same cost. We bought his resident pass and paid for the swim class, then we found out classes were starting in just a few hours.
Off we went home and tried on his bathing suit, it still fit but the zipper was broken. He loved that bathing suit and would wear it last year all day long if let we him. He has even slept over night in them (the sneak would change into them after we sent him to bed). He said he was okay with the zipper being broken and he wanted to swim in it. I figured well one class and this weekend we would shop for a new one. After all we only had a couple hours before class started.
So we decided to do some errands. The drug store was first. Daddy's prescription wasn't ready but I found bathing suits. I know who goes bathing suit shopping at a drug store? Unfortunately the suits were too small for P. But I could see he was uncomfortable with the zipper being broken. No matter what he said we knew that he needed a new suit sooner rather than later.
We still had some time before the lessons, poor P was in tears because he couldn't be in the pool NOW. The pool shut down in the late afternoon for a couple hours. His mind was set on being in his broken swim suit and go swimming before his lesson started. There was no consoling him, unfortunately his tears and mourning of his swim suit combined with him not being able to swim was too much for Daddy and he started to get upset. Another case of when asperger's clash.
It took some calm talking to convince the men in my life to go suit shopping. How do you get a boy to pick out a new swim suit when he only has eyes for the one he was wearing? The one with the broken zipper that is unzipped to his tummy. Let me tell you it takes some clever thinking.
Of course he needs to fall in love with a new suit and I relied on his old suit to help us pick out his new one. His swim suit is a one piece that covers his upper body as well as the traditional truck area. Luckily they had swim shirts and swim trunks. "Look P, they have swim shirts so you still can have your chest covered." This hooked him, but he still wasn't reeled in. Then I saw that one of the swim shirts has a hood attached. Please don't ask me why. I can only report that it was a black and yellow swim hoodie, who knew?
So we managed to get both children a new bathing suit today. B was easier, if it is pink she wold love it. Mommy of course can't find her suit so I think this week end it is the dreaded swim suit shopping trip for me.
Now swim class was at 6:30. There was a nip in the air okay a nip for July, if this was in early spring we would have been tickled pink. Both kids wanted to get to the wading pool (It reopened a half hour before his class) early to try out the new suits. B had a floaty with hers and she wanted to see if she would float in it. We got there and the clouds started to get darker.
It has been on and off rain for the last couple days and simply put the water was not warm. In fact I think it is safe to say that the water was COLD. Swim class was about to start so he got out of the cold water in the wading pool only to wait in the cool air (in a wet suit) for the lesson to start. Then he had to stretch before he could get back into the water. He was cold.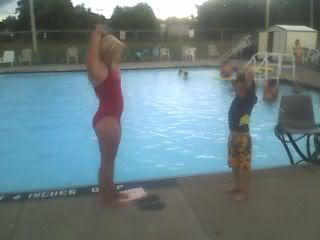 Of course it gets better, once he gets in the pool it starts to rain. B is out of the water and we walk over to the big pool to watch P's lesson. I felt bad for him, he was shivering and after about 20 minutes he wanted to quit. Nothing would motivate him so I told him if he finished the lesson I would buy him a mocha. That motivated him, he started to do what his teacher asked him to do.
By the end of the lesson we were all cold and wet (remember its raining) and were ready to go home. All P wanted was a nice hot bath. So we went home to warm him up and Daddy went to fetch the promised mocha. P meanwhile started his bath and jumped in (still in his swim suit) the tub to warm up.
He has accepted his new suit (though has insisted we keep his beloved red swim suit). His teacher is the same teacher as last year so he is trilled about that. We all are warm, dry and cozy tonight. The day may have been chaotic but we spent it together as a family. Who could ask for anything more