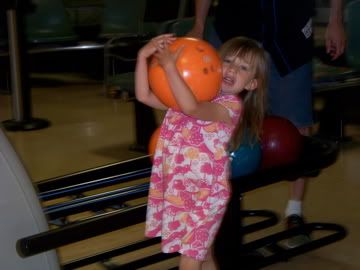 How sad is it when your six year old beats you at bowling in both games that are bowled? Of course to make it worse he even announced that he was going to do that before we started the games. It may have been a while since we last bowled together, but he still remembers that he won more often than not.
We signed the children up for free bowling this summer. They can have two free games each day. There was an option for the adults to pay for a discounted bowling pass for the same length of time. So our whole family is going to be bowling this summer. I even bought myself a cheap pair of bowling shoes and ball off craigslist. My next mission is to purchase a pair of bowling shoes for my son. Then we will really be saving a lot of money by not paying for shoe rentals.
We got to the bowling lane today about 2 p.m. and the parking lot was empty. I was really concerned that the lanes were closed. Then I looked at the hours. At first I looked at the wrong date and for a moment was convinced they were closed. However my oldest had stepped on the magic self opening doors and found his way in. He asked the man behind the counter if they were open and it was happily announced that they were.
It was a ghost town in the lanes. We were the only customers there and I felt bad that we had coupons for free bowling. Well, I had to pay for his shoes so they would make some money off us. Money, Yikes I had left my purse at home. I dreaded the thought of getting the kids in the car for a side trip home and back to fetch my forgotten purse. The man behind the counter came to my rescue by allowing me to use the phone. He even sold us pop knowing that I didn't have the money, and that my husband was bringing it to me.
P took off one shoe and put on a bowling shoe took a step or two and did the same with the other foot. I know this because his sneakers were left in a trail. If he had more feet than two there would have been a long line of sneakers behind him. B was allowed to bowl in her shoes because her feet were too small for the rental shoes. Now I put my new slightly used bowling shoes on and P wouldn't believe that they were bowling shoes because they looked like sneakers. Only when I showed him the soles of the shoes did he see the difference,
The game started and he was so excited that he felt that he should help his sister. OF course he is helping her because he wants to bowl more. Watching the two of them bowling in unison was adorable. If only they could work that well together more often. She let him help for the first few frames but then she wanted to do it herself. This was almost as entertaining as both of them bowling together.
She would run up to the lane, per her brother's instructions. Then stop and gently place the ball on the ground centered on the lane and push. Then came the wait. The long eternal wait for the ball to get to the pins. At first she managed to get gutter balls which is an accomplishment because we were using bumpers. Better yet was when the ball went so slow that it started going in reverse. I had never seen that before.
P had his own unique style to his bowling. He would run up to the lane and launch the ball up and out. It wasn't a roll as much as it was a throw. The sound made me cringe. It sounded like the ball would break through the lane with a huge crash. He would often slide and fall on his butt. Even with his odd way of bowling he still managed to get better scores than both me and B.
I am blaming my low score on the new bowling ball. I kept getting my fingers stuck in the holes. There was actually a popping sound that was made when I released the ball. So I am going to have to have them re-drilled at some point this summer. The ball return also really liked my ball. It would get almost up to the ball holder but not quite. You could see it inside of the hole almost all the way up but not quite. So I had to use a second ball (with better finger holes) to get my ball to pop out of the ball return.
We bowled our two games and then the kids suckered me into buying them an ice cream treat. We had a nice afternoon and are looking forward to many more days like today. Luckily the lanes started getting more bowlers by the time we left so it made paying the $2.50 total easier for me. We are planning on going back on Thursday before we see Walking With Dinosaurs. Bowling in the afternoon will give us some family fun this summer.