Have you ever had a day or two that seems like it is suited for the movies or a sitcom. This week definitely was made for TV. Another way to describe the past couple days is a comedy of errors.
Let's start with Wednesday. I was enjoying a nice quiet afternoon at home when it happened, (insert dramatic music here). I was using my laptop and I got a low power warning. I only had a 10% charge on it, I looked the charger was plugged in and connected to the computer, the LED light that tells me that it's working however is off. I tried the usual repair method, I juggled the cord. Sadly that didn't work. I unplugged it and let it cool down before plugging it in again, nope still nothing. I plugged it into different wall outlets in case the outlet was out,this too didn't help.
So I call Apple and decided when talking with a tech to replace the charger. They assured me I will have it within one to two days (remember this in Wednesday). So I think to myself how much I will miss my laptop and will have to muddle through sharing the desktop with Dennis. I get an email telling me the part has shipped and I see it goes from Pennsylvania (next to New York State) to go to Tennessee. I figure I will have it the next day because it would probably arrive by airplane.
I get my iTouch out because I can connect to the internet with it, it is a much smaller screen but at least I wouldn't have to fight with my spouse for computer time. It won't turn on so naturally I charge it. I assumed it was out of power. I go back to get it a while later and see an Apple symbol on the screen. This isn't usual and I know something is wrong. I pick it up and it is hot to the touch. Then the screen goes blank and the iTouch is no more. So on the same day my laptop can't be charged and my iTouch isn't working.
Thursday I wake up and check Fed Ex to see if my charger is going to be delivered. It is still in Tennessee. I figure maybe it just hasn't been updated yet, I have had a few shipments of various things that the Tracking was updated until after it was delivered. In the afternoon I see a Fed Ex truck park outside my house and I am so excited. The driver went to another house, slowly walked empty handed back to his truck and starts to pull away. What are the odds another person on my street, specifically across the street from my house would get a Fed Ex delivery when I was expecting a package?
I keep checking and it is Tennessee all day. I call Apple about my iTouch and get an appointment to go to the store to have them look at the iTouch. So now I have a second day without my toys. I think I am going through withdrawal. I want the use of my electronics back ASAP. How did I even survive before I had a laptop and iTouch?
Today I was up and see that the charger is still in Tennessee and now I am upset. It definitely shouldn't take this long. Then I see a second e-mail for Apple. The part is now in California. Now that is so not in the correct direction. It is one of the farthest points it could have been from New York State. I also see that the email says the repair is complete. Oh no it isn't I say (of course I am talking to myself like usual).
I called up Apple for the third time in three days. They find out the shipping label fell off in transit. I have shipped items with UPS and Fed Ex and have found the labels to be pretty much fall off proof. They will resend the part and we go through all the steps to get it. Now I am almost late for my appointment about the iTouch. I get my daughter all strapped in to her car seat and I realize my keys are in my locked house.
Of course they are, it just goes with the way the last few days went. I manage to get in and retrieve my keys and now I am late for my appointment. Deep breaths I keep telling myself, I am going to get the iTouch repaired I just bought it so it is under warranty. I just have to wait a bit to get it back.
Did you know that there is a strip in an iTouch that changes color if it gets exposed to a lot of water? I do because the Apple guy showed me it. He said that the unit was SUBMERGED in water, not by me it wasn't. All I have to say is the my daughter is lucky that I don't know for sure if she did it and that I was in a very public place when I found out about it. They then inform me that it would cost me $199.00 to replace it. Now that is significantly less than the original purchase price, but it just isn't my budget anytime soon to proceed with the replacement.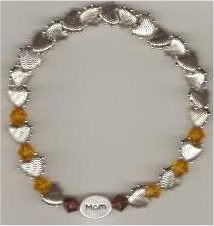 On the way home I go to McDonald's and they forget to give me my complete order and no straw either . I totally forget to get my daughter soccer shin pads for her game tomorrow. No shin pads means that she can't play. I find out that a gift that I sent a friend of mine didn't get to her. I shipped her an empty box. It was a pretty box but it was supposed to have two bracelets inside of it. I go to where I put the extra pretty sparkly silver boxes and they are gone. This time I know my daughter has them. Of course she claims she doesn't have them and a battle of wills was fought. At least I won that battle.
Tomorrow I have a soccer game in the morning and a three mile walk afterwards. I can only hope that it will be a good day and break this comedy of errors pattern that this week has thrown at me.